Most people walk through life feeling victimized by their own personalities. "That's just Who I Am" is a phrase we use all too often to justify any number of behaviors that may actually be harmful to ourselves and to others. This class will walk you step by step through the four principles that work together as one to make up your personality - the "delivery system" through which you bring your unique Gift of the Soul into form.
In order to get the most out of this class, it is important that you are aware of the basic tenets of The Invisible Garment work, and it is necessary that you have a personalized Invisible Garment Workbook. If you do not already have one, notice that there is a special pricing for this class that includes a workbook.
The tenets:
You are here to deliver a unique gift from the soul into the world
At first breath you signed a contract with Life, promising to deliver that gift
That contract, your spiritual DNA, wraps itself around you like an invisible garment
Your contract is made of identifiable spiritual principles
You can remember that contract and understand how to live it
You can wear your spiritual wardrobe (thereby delivering the gift) with grace
This Personal Pillars class consists of four weeks of teachings in which we explore together the four bodies that make up the personal ego: the ethical body, the mental body, the emotional body, and the physical body. We will look at the lies that may have been incorporated into your understanding of yourself as a personality over the course of your lifetime, we will learn techniques for eliminating those lies, and most importantly we will examine how to let the principles that represent these four bodies to operate through you seamlessly and gracefully.
WHAT YOU GET:
20 videos (five per week for four weeks) featuring Connie Kaplan who explains in depth the teachings regarding your Personal Pillar principles
multiple pdf study guides
a pdf syllabus overview of the entire course
weekly homework suggestions
one ½ hour private consultation with Connie that you must schedule sometime within the 4 weeks
access to private communications with the other class members
an optional study group call with one of the mentors and a few other class members
an optional weekly group call. (You will receive the recording link if you are unable to attend.)
So to be clear:
You will receive on each Wednesday of the class, starting March 29, 2023, access to 5 video teachings - the focus of the week. You may watch them as often as you like and in your own timing.
Each week there will be a group call which you may join live, but if your schedule doesn't allow live participation, you will have access to the recording of the call each week.
During the four weeks you may schedule a private 1/2 hour consultation with Connie.
There will be study guides, homework, group comments and conversations with each other.
The mentors will organize small groups (optional study buddy groups) to allow for informal deeper dives with a few of the students in the class.
And as a special bonus there will be a few long-time students of this work auditing the class and available for personal communication with you.
This course will literally re-wire your self-concept. You'll forgive yourself for things you thought you did "wrong." You'll begin to see that many of the things that you thought were flaws were actually strengths. You'll liberate yourself from cultural restraints that you've unconsciously accepted. In a nutshell - you'll become More You!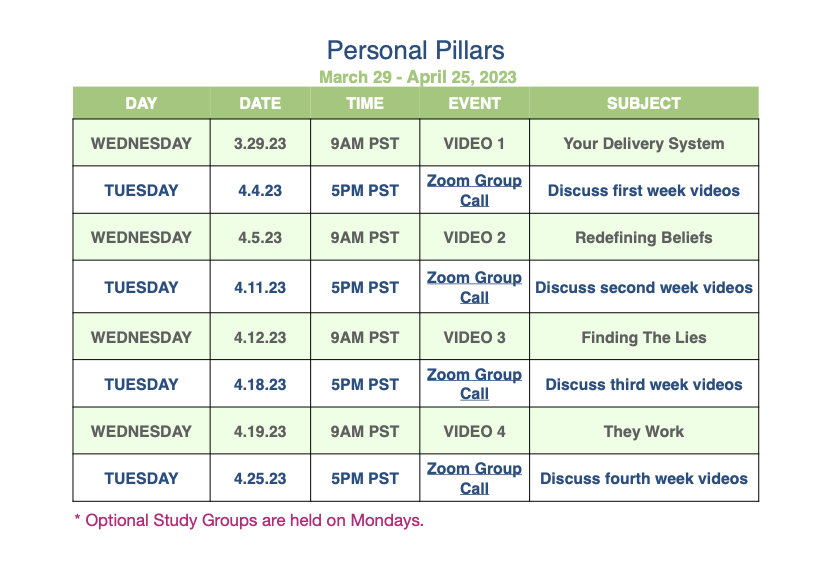 Frequently Asked Questions
When does the course start and finish?
This Personal Pillars course starts with the first set of videos delivered to you via email on MARCH 29, 2023 and ends on APRIL 25, 2023 - one week after the last set of videos is released. However, in truth it never ends! These videos and the pdf downloads remain available to you for "a lifetime." After this class we will have free "summer school" group calls to support you in the integration of this work!
How long do I have access to the course?
How does lifetime access sound? After enrolling, you have unlimited access to this course for as long as you like - across any and all devices you own.
What if I am unhappy with the course?
We would never want you to be unhappy! If you are unsatisfied with your purchase, contact us in the first two weeks and we will give you a full refund.
A Word about Value
In our world, money represents the exchange of energy between people. What you pay for something demonstrates how much you value it. In order to create a healthy
exchange of energy between you, me, and the powerful transformational properties of this work, we have created several payment options for this class. Your choice will not be shared with anyone, so make the choice that fits your most appropriate ability to contribute.
The
A

bundance
level represents what I think is the fairest exchange of energy between you and me. Also, if you choose this level you will know that you are underwriting others who are equally dedicated to transformation, but less able to pay this price.

The
T
ranquility
level gives you the peace of mind that your exchange of energy represents your honest sense of balance in giving and receiving.

The
S
erenity
level allows you to participate in the class with the clarity that you are being supported by others in this community in bringing your best self and your unbending commitment to this work.
The
P
rogressive
level provides the option to pay in increments as you progress in the class. By giving slightly less each month, you are ultimately giving slightly more and contributing to the community in an on-going fashion.
This class is a beautiful and powerful investment in yourself!