Correction to this video. The group calls in the April/ May/June 2021 class will be on Thursdays at 5:00 PM PDT. These calls will be recorded so that you can listen to them if you have to miss them. There will also be Study Buddy calls each week for smaller group conversations about the topics of the week.
Dreaming is foundational to all of Connie Kaplan's work. The profound new ideas that she presents are revolutionary:
Most dreams are not personal messages to the dreamer
The moon highly influences the content of our dreams on any given night
There are thirteen different types of dreams
Dreaming is a spiritual practice
This class starts April 23rd, 2021. This class runs seven weeks, ending with the final Zoom call on June 9. During that time you will receive an abundance of information about the unique dreaming work techniques that Connie Kaplan teaches. If you put these techniques to work in your life, the result will be a new relationship to your dreaming, to your personal evolution, and to your contribution to the evolution of the planet.
The timing of this course is asynchronous. In other words, you do not have to be on the computer at any certain time to receive the benefits of the class. You will receive access to a new group of teaching videos every Friday. We will have group Zoom calls every Thursday at 5:00 PM Pacific time. However, those calls are recorded so if you are not able to be on them, you will get to listen to them and receive the benefit of them! You get to create your own weekly schedule!
Your only pre-requisite is to be a dreamer, and to be familiar with Kaplan's work as described in her books, The Woman's Book of Dreams, and/or Dreams are Letters from the Soul.
You will be mentored during this class by Dr. Tamar Frankiel. She has studied this unique dreaming philosophy for over two decades. The opportunity to interface directly with her increases the value of the class immeasurably!
As a student, you will receive intimate personal attention from both Connie and Tamar, and for that reason we are limiting the class size to 20.
Sign up today and reserve your spot.
WHAT TO EXPECT:
Week One – New Definition of Dreaming
Week Two – 13 Types of Dreams
Week Three – Nightmares/Recurring Dreams/Communal Dreams
Week Four – Your Personal Relationship to the Moon
Week Five – Lunar Influences on the Dream
Week Six – The Dream Circle Ceremony
Week Seven – How Dreaming Wisdom Changes Your Life
WHAT YOU GET:
24 videos (3-4 each week) featuring Connie Kaplan explaining the primary teachings
Written group discussion after each video
One optional group Zoom call per week
Private half-hour session with Connie
Optional weekly study buddy group with Tamar
Upon completion of this course you will be invited to join our on-going bi-monthly digital dream circle
To clarify:
24 videos- Each week you get access to three or four short videos revealing powerful teachings. You may listen to them as often as you like - not only during the duration of this class, but forever after. This format prevents you from having to take notes during a lecture - allows you to listen more deeply than in a usual class - and lets you listen when it works best for your personal schedule.
Written discussion- After each video there is a comments section. You're encouraged to communicate with the teachers and with each other using this format.
Group Zoom calls- Each week you are invited to join Connie and Tamar and the rest of the students in the class on an audio/video Zoom call. The first few minutes of each class will be open for questions and comments about the week's teachings. The last part of the call will be a mini dream circle. THIS CALL IS OPTIONAL. If you can't attend, do not worry. It will be recorded and you can listen to it in your own timing.
Private 1/2 hour session with Connie- Each student in the class can opt for a 1/2 hour Zoom or telephone or face-to-face conversation with Connie.
Optional study buddy group with Tamar- For the people who want more personal attention, more intimate mentoring, Tamar will create small study buddy groups which will meet at a time agreed on by all.
A Word about Payment - A Word about Value
---
In our world, money represents the exchange of energy between people. What you pay for something demonstrates how much you value it. In order to create a healthy exchange of energy between you, me, and the powerful transformational properties of this work, we have created several payment options for this class. Your choice will not be shared with anyone, so make the choice that fits your most appropriate ability to contribute.
The Abundance level represents what I think is the fairest exchange of energy between you and me. Also, if you choose this level you will know that you are underwriting others who are equally dedicated to transformation, but less able to pay this price.

The Tranquility level gives you the peace of mind that your exchange of energy represents your honest sense of balance in giving and receiving.

The Serenity level allows you to participate in the class with the clarity that you are being supported by others in this community in bringing your best self and your unbending commitment to this work.
The Progressive level provides the option to pay in increments as you progress in the class. By giving slightly less each month, you are ultimately giving slightly more and contributing to the community in an on-going fashion.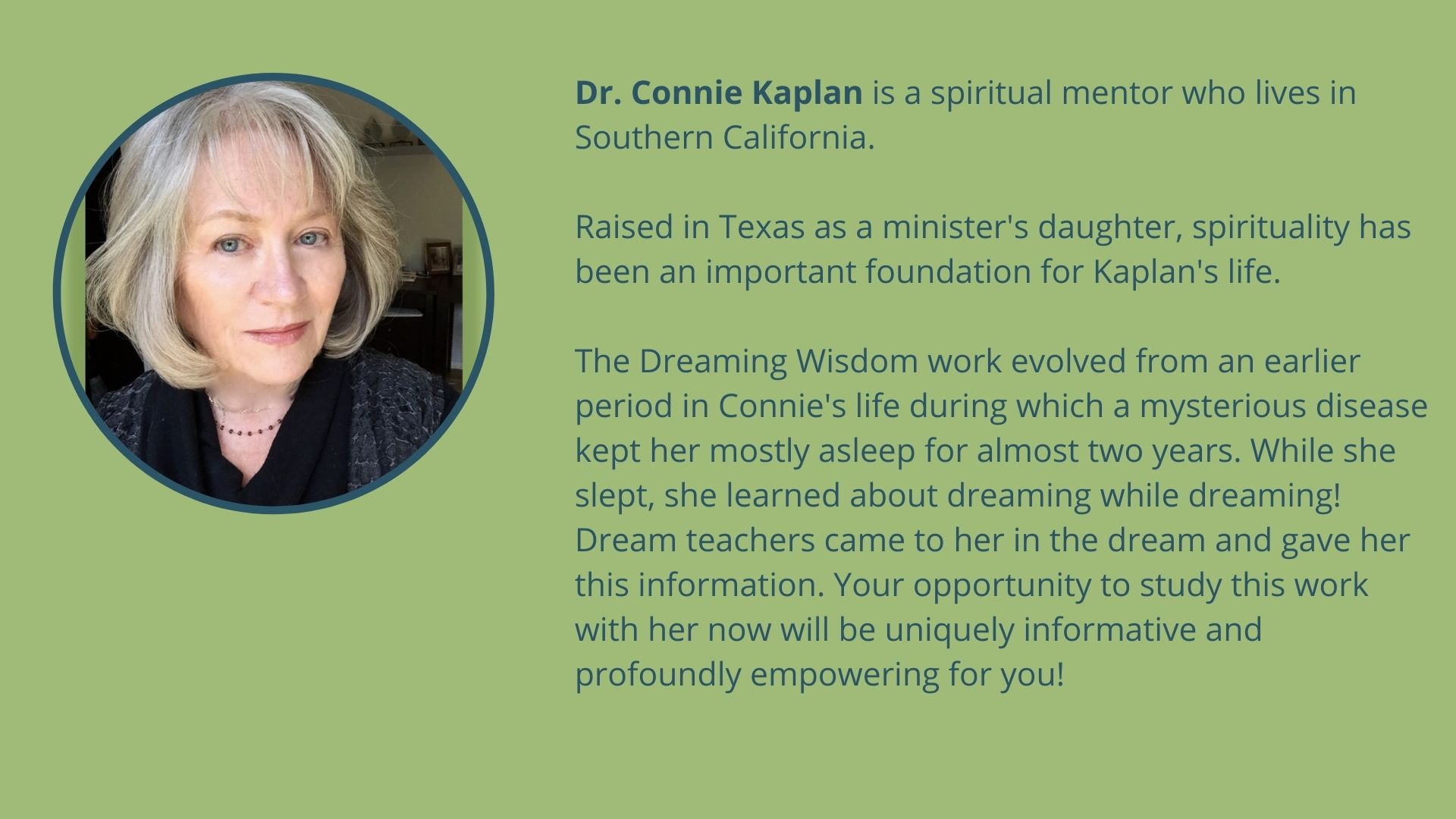 Dr. Kaplan has authored many books: The Woman's Book of Dreams, Dreams are Letters from the Soul, The Invisible Garment, and A Colorful Life. Each of Kaplan's books is unique and each shares a new and bountiful body of spiritual information. Kaplan's websites: http://www.turtledreamers.com, and www.theinvisiblegarment.com

You may contact Dr. Kaplan by e-mailing her at [email protected]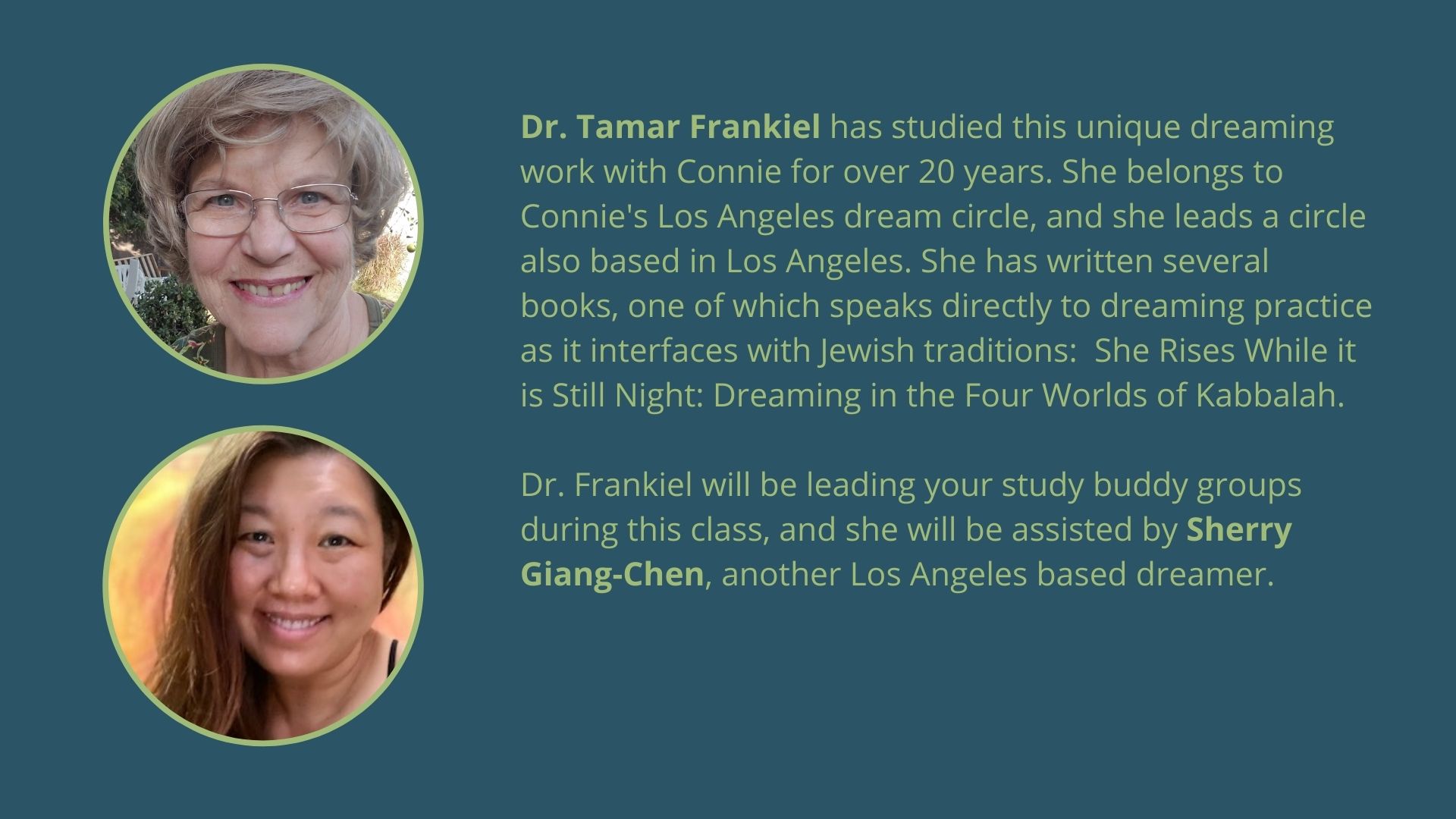 We are super fortunate to have these two master dreamers who are ready to make themselves and their wisdom available to you!

You may contact Tamar by emailing [email protected]
You may contact Sherry by emailing her at [email protected]
Frequently Asked Questions
When does the course start and finish?
The course starts on April 23rd, 2021, and technically never ends! You will always have access to the videos and comments - even after the course ends in December. However, you will also have the BENEFIT of being able to take the class again for a minimal charge every time Connie offers it on teachable.com in the future.
How long do I have access to the course?
How does lifetime access sound? After enrolling, you have unlimited access to this course for as long as you like - across any and all devices you own.
What if I am unhappy with the course?
We would never want you to be unhappy! If you are unsatisfied with your purchase, contact us in the first 30 days and we will give you a full refund.
We hope you'll join us. This promises to be a rich, enlightening, and gratifying experience together!
Please enroll as soon as possible. You may have delayed your decision to join one of our classes in the past and the class filled up before you returned to enroll. We love that our classes fill so quickly, we hate having to turn people away. But a big part of the uniqueness of our classes is the personal attention you get from us, and maintaining that intimacy with you is our priority.
Sweet Dreams!